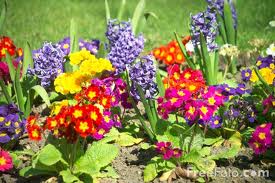 Flowers, especially bright flowers, can liven up the exterior of your home very inexpensively and easily. They needn't be expensive or exotic. Even the cheapest, easy-care, low maintenance flowers will do just fine, such as:
petunias,
marigolds,
sweet alyssum,
zinnias,
and bachelor's buttons.
Your local garden center will be able to help you make the best choice for your location and purpose. Remember that annuals are cheaper than perennials, so they'll suit your purpose perfectly. Keep in mind also that mixing bright colors like pink and yellow give a much happier appearance to the home than darker purples.
Flowers are an especially nice touch under windows, on porches, and in flower beds. They create a special level of warmth and depth, making your property appears cared for as well as enjoyed.